Car glass damage can happen in an instant. A rock kicks up from the car in front of you, chipping your windshield. A hailstorm cracks your passenger-side door glass. A sideswipe takes off your mirror. If any of these situations leave you with damaged vehicular glass,
contact us
at Star Windshield Inc. to set it right.
We offer mobile windshield chip repair and replacement services to customers, providing repairs or replacements wherever your car is.
Our techs come equipped to tackle any type of glass damage, regardless of your vehicle's make or model.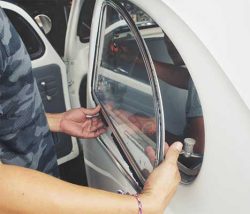 Windshield replacement
A cracked windshield makes it hard to see—not to mention compromises your safety behind the wheel. If an accident, storm damage or something else has caused a crack to form on your glass, call us for windshield replacement in Hot Springs, Red Oak, Rockwell, Piney, and Garland County, AR. We'll get the job done on-site, so you don't have to risk driving with damaged glass.
Mirror glass
Damage to any of your rearview mirrors leaves you vulnerable to blind spots. Call us for quick glass repairs to restore the 360-degree field of vision you need while you're on the road.
Chip and crack repair
Stones, hail and falling objects can all leave their mark on your glass. We remedy all cracks with our windshield chip repair service in Hot Springs, AR. Our knowledgeable workers leave behind glass that looks perfect and is strong enough to stand up to the weathering of the road.
Power window replacement
Damage from a break-in or accident? If your power windows need repairs, call on us to handle the glass and the regulator. We're the complete solution on power window service.
---
Cracks will only get worse. As soon as your glass is damaged, contact Star Windshield Inc. to schedule a service appointment for windshield repair and more. We'll repair or replace your glass, so you can get back on the road safely, driving with clear, unobstructed vision. Ask us about home glass replacement and window regulator services, too.